The weather is getting warmer and you know what that means…bright days and brighter hair!
With summer vacays, beach days and road trips ahead, there couldn't be a more perfect time to take a walk on the lighter side.
Step 1: Choose your ideal shade!
Buttery, ashy, beige, oh my! We've fallen in love with so many shades of blonde, it's impossible to pick favorites. Blonde tones look different on everyone—your perfect match will align the stars for the ultimate combo of skin tone and hair color.
How do you pick your shade? Here's a secret: it's the one that glows. The first step is knowing your skin's undertone. If you don't know, hold your wrist against a sheet of white paper in natural light.
If your veins are primarily blue or purple, you are cool-toned and your skin would look best with shades of cool blonde! Think blues and silvers—so your ideal blondes are on the platinum and icy or ash shade of the spectrum. If your veins are green, you are warm-toned and you would look radiant with more golden hues. Try a sunny yellow, honey, or strawberry blonde to really make your skin pop. If you are unsure or you have a mixture—stick with neutral tones! Champagne, beige and wheat blondes complement all skin tones.
Don't be afraid to mix it up at your next appointment—if you're itching for a new you, try a different blonde hue! After all, rules are made to be broken.
Step 2: Consider how much maintenance you want to invest.
Lived-in color, all-over blonde, or sun-kissed? Consider your desired look (and maintenance). If you want blonde from roots to tips, keep in mind your roots will need a touch-up every 4-6 weeks.
Interested in something a little less intensive—but just as eye-catching? Ask for a lived-in blonde. Your stylist will center the color a little further down the shaft of your hair, blending the blonde into your roots for a seamless grow-out. By keeping your roots close to your natural color, you can extend time between appointments.
Not ready to commit to full-on blonde? No need to miss out—try a little on for size! Ask for a few sun-kissed highlights or money pieces around your face. These pops of color will enhance your skin tone and make your eyes pop for a post-vacation glow all summer long.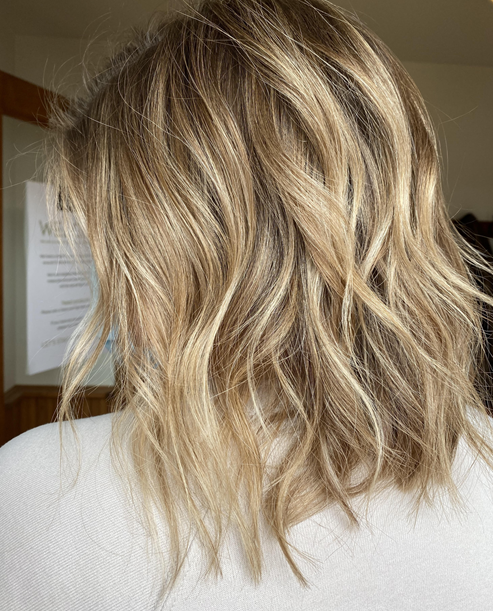 Step 3: Reverse damage and give your blonde a healthy base.
Magnificent color requires truly healthy hair! We strongly recommend adding on a Botanical Repair Treatment to your blonding service. This 10-minute professional infusion of plant-derived molecules repairs your locks and protects your freshly colored hair from future damage—leaving your hair five times stronger and your new blonde tones looking the best they can.
Book your color treatment online here.
Step 4: Pick up this product line to keep your blonde salon fresh.
Perfect color starts in the salon, but it's maintained at home. Step out of the salon confident that your color will stay vibrant and true until your next appointment with Aveda's newest Blonde Revival product line.
The Blonde Revival Shampoo & Conditioner Set contains violet pigments to neutralize brassy tones resulting in the coolest blonde yet. An ultra-nourishing formula that's 96% naturally derived and 100% vegan, it contains passion fruit and acai oils to resurface the hair and leave it feeling smoother and healthier.
Shop the Blonde Revival line at our online store here.
View this post on Instagram
Step 5: Save the date—pre-book your next appointment!
Before you step out the door with your amazing new hair, make sure to pre-book your next salon visit. Maintenance is key to keeping your locks bright and healthy all season long—and locking in your ideal touch-up date is key to achieving that dream hair.
Ready to book your complimentary color consultation? Give us a call at 715.477.1234 and take the first step to blonde bliss.