You know the saying—healthy hair starts at the root! While many of our guests are quick to hop on the skin care-obsessed train (as they should), some of us are a little slower to introduce scalp care into our routine. But Invati Advanced hits all the right notes: with three units sold every minute and 20+ years of research and development, this product line has changed the way we incorporate transformative hair care into our beauty regimen. As we're celebrating and reminiscing on 10 years of Invati Advanced, we've realized one thing—we've never loved our hair (or our scalp) more.
Now, with the rise of social media platforms like TikTok, scalp care is trending. Beauty influencers have realized the golden rule – to treat scalp care like skin care (because it is) – and we've seen a renewed interest in adding invigorating scalp products to beauty regimens. And there's no product line better than Invati Advanced—which has been preventing hair loss, naturally, for 10 years and counting.
But what sets Invati Advanced apart from the rest?
Reduces hair loss by 53% after just 12 weeks
Is your hair shedding more than usual? Don't panic—there are many reasons why you could be experiencing an increase in hair loss. While we do lose a certain amount of hair each day, (50-150 hairs per day!) certain environmental factors can play a role as well. Tight styles, change of seasons, stress and sleep, nutrition, illness, pregnancy and improper brushing can cause breakage and fallout.
That's where Invati Advanced comes in. This powerhouse product line is clinically proven to reduce hair loss by 53% in just 12 weeks using the power of Ayurvedic herbs. The collection is vegan and 94% naturally derived—proving that you don't need harsh chemicals to treat your hair concerns—and in fact, your locks are happier without them.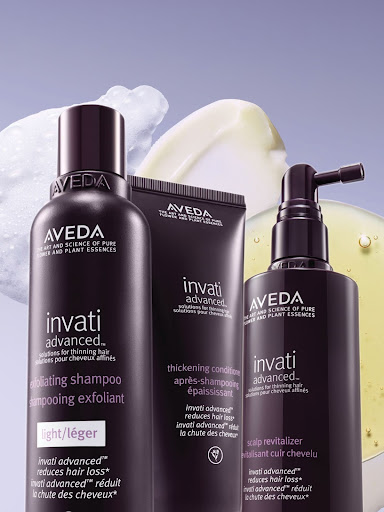 Three steps to thicker, fuller, healthier-looking hair
Backed by 18 years of research and development, Invati Advanced utilizes a three-step system – exfoliating and cleansing, thickening and conditioning, and invigorating and activating – to help keep the hair you have longer.
Step 1: Exfoliating and cleansing. Invati Advanced Exfoliating Shampoo gently cleanses and exfoliates the scalp with wintergreen-derived salicylic acid.
Step 2: Thickening and conditioning. Invati Advanced Thickening Conditioner hydrates and protects hair from breakage with a blend of nourishing coconut and kukui oils.
Step 3: Invigorating and activating. Invati Advanced Scalp Revitalizer uses certified organic alma to thicken each hair strand, making hair instantly fuller and more voluminous.
Personalized system sets for a unique scalp care experience
The best thing about Invati Advanced? There are a multitude of products to achieve your dream results. The three-step system is even available in Light and Rich for a personalized experience depending on your hair type and texture.
Invati Advanced System Set Light: Ideal for fine hair.
Invati Advanced System Set Rich: Ideal for medium-thick hair.
Not ready to commit to the full-sized system? That's not a problem—Aveda offers a curated Discovery Set to test drive the products before investing. Purchase a trial set and receive the price of that set off of your purchase of the full-sized set.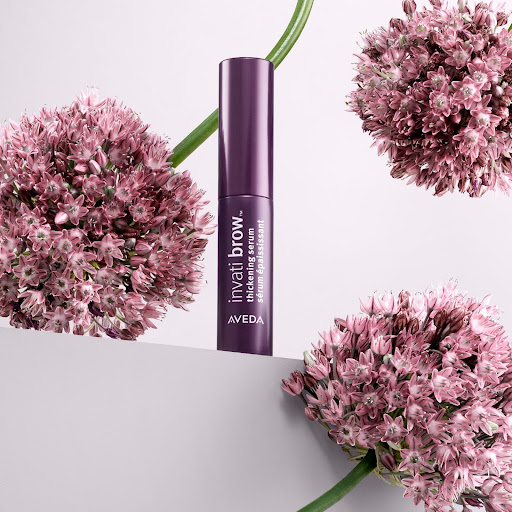 On the love list: styling product + brows
Turn up the volume—the Invati Advanced product line is more than just scalp care. The collection recently released two new fan favorites to achieve both voluminous locks and fluffy brows alike.
Invati Advanced Thickening Foam: Instantly plumps each hair strand for thicker, fuller and more voluminous hair that lasts all day.
Invati Brow Thickening Serum: Vegan brow serum delivers thicker, fuller and denser-looking brows in as little as four weeks with full results in 12 weeks.
Celebrate 10 years of Invati Advanced with us! Enjoy a free limited-edition Invati Advanced Scalp Brush with any Invati Advanced trio set or full-sized system. Shop now. 
Talk products with our expert team! Stop by to shop, or call Salon & Spa on Railroad at 715.477.1234 for personalized recommendations. Or, browse our online store here.